This weekend I had the opportunity to go back and see Highway 9 again. If you've read my blog in the past, you know I went there last year and was disappointed by the horrible condition of the road surface. It had been "resurfaced" with a layer of dusty chat. Since then, it's had a year of time and traffic to pack down the layer of loose mess and it's returned to a fun road to drive. I would still highly caution motorcyclists to use extreme caution taking this road as there are spots of loose rock in some of the curves.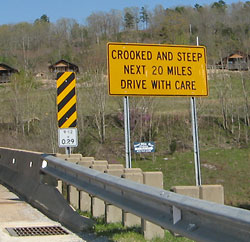 The change of seasons was noticeable and beautiful with the vast of hues of green, and with several overlook points you can see views that rival some of the best I've seen in the state. As it's a small, not heavily traveled stretch of road, there are no markers for the overlook spots, but if you watch for the wide shoulder areas on the right (heading north) you can stop for a moment to take it all in.
I did take advantage of a chance to get a picture of one of the most beautiful sights all day long. Those signs
always
make me smile.