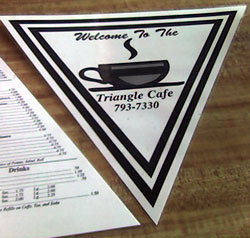 Finally!
I've been off traveling again. This time it was to
Batesville, Arkansas
for lunch. As usual, there wasn't a planned exact location other than "something local" to eat. After driving around for a few minutes, I stepped into a local bank branch office to ask what was good nearby. Aha! That is a technique that works! Local banks have plenty of generally friendly people who often eat out for lunch on a regular basis, and they've tried just about everything local available. A helpful lady there suggested
Triangle Cafe
, it was "just up at the top of the hill."
As soon as I saw the place, I remembered seeing it the last time I was in Batesville and thinking it looked interesting. With the new smoking ban in place, I'm a lot less hesitant to enter a small local cafe than I have been in the past, so in we went. The wonderful aroma from the instant I walked in the door let me know I hadn't made a mistake.
Since it was the two of us, we decided to get one of their lunch plate specials, plus a bacon cheeseburger and tater tots, then share the whole lot. The plate special included a salad bar and desert, which were the only two dull spots in an otherwise excellent meal. The plate lunch included a hearty bowl of vegetable beef soup, green beans and fried potatoes. There was actual beef in the soup, plus a range of vegetables that would take a while to list. The cheeseburger... it was one of the best I think I've had anywhere. Forget the $8 and $10 burger at the gourmet restaurant or even casual dining restaurant. This $5 burger, in all it's half-pound, bacon and cheese topped glory, puts others to shame. It really was just that good. Astoundingly enough, someone while we were there ordered a double burger. Where did they put a pound of hamburger?! It took two of us to eat the single patty burger. The atmosphere was worth noting too; the menus were printed on a laminated triangle, and the ceiling was covered with a somewhat rusty corrugated tin roof. The staff was friendly, and the patrons seemed to be locals, some who clearly frequent the cafe were happily chatting with the wait staff.
Next time you're in Batesville, Arkansas for breakfast or lunch, Triangle Cafe will fill your belly and not pillage your wallet. It's one of those places that if you leave hungry, it's your own fault.
---
Other restaurants I've visited in the Batesville area that are worth noting are
Josie's at the Lockhouse
and
Elizabeth's
, both of which were recommended by the same friendly bank folks that suggested Triangle Cafe.
I hope to be adding more restaurants soon. At dinner tonight, I found out that a couple, friends of mine, will be doing lots of traveling for business throughout Arkansas and Missouri in the coming months. They like to dine at interesting, off the beaten path places so I hope to get some tips back from them soon.

(Hint, hint... you know who you are!) Any suggestions from anyone are of course welcome. If I go there, I'll post about my experience, as good, bad or ugly as it may be.