So the food was good and the hotel overall was quite nice. The rooms were a little lacking but I wasn't there to see the hotel room.
I wasn't really there just for the food
. The whole reason for this outting was to see a man whom I hold at least partially responsible for my gaining any confidence to experiment with my cooking and the results be edible, Alton Brown. I was willing to spring for the VIP tickets, which gave me great seats to his afternoon cooking demonstration, a signed copy of his newest cookbook, plus a VIP "Meet & Greet" reception later that day. Was it worth it? You bet.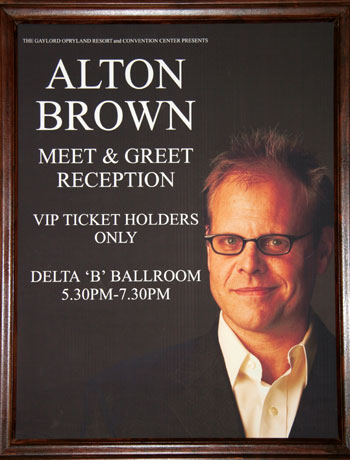 The contraption pictured in my previous post was a part of his demonstration on how to properly deep fry a turkey with a bit of a comical yet effective approach to safety. A series of pullies and rope allowed him to lower the turkey (raw, on stage) into a hot pot of peanut oil. While he talked, the turkey cooked to perfection in just over 30 minutes. Out of about 650 people there, a friend at the table with me was picked out of the crowd to sample the turkey. Being a generous guy and all, my friend gave the rest of us a small taste too. (Yes, it really was good.) Alton took questions from the audience at the end and answered everything with his usual enthusiasm.
The hotel had left a note to those with VIP tickets that since the promised cookbook was not ready for this weekend, Alton would be signing stickers to place inside the book, which would be mailed to our homes. Since they knew this would be a disappointment, they would provide a professional photographer to take pictures with Alton for free. Nice! At the reception, they had a variety of hors devours, both sweet & savory; recipes for some were distributed at the afternoon demonstration. After moving through a relatively quick line, I got the opportunity to meet Alton. This wasn't my first time to meet him at this type of event, and I can say he seems like a genuinely nice guy every time. The fact he shares my enjoyment of both cooking
and
motorcycles doesn't hurt either. If you like traveling and finding those not-chain restaurants, you should check out Alton's special airing on Food Network now, it's called "
Feasting on Asphalt
." He & his crew find some great family diners in the south, and he takes a deep breath before biting into a brain sandwich. (A little disturbing if you ask me, he's clearly more brave than I am.)
The cooking demonstration left me in tears I was laughing so hard, and that wasn't an isolated instance. My face hurt from smiling so much, it was that entertaining. The reception was well thought out, well put together and I have a great photo of my husband and I with one of the few famous folks I've ever met. Add to all that good food in the company of friends and it makes for one very nice weekend out of town.