My traveling days have started again with a long weekend trip to Atlanta. Our primary reason for the trip was to visit the
High Museum
and see
The Allure of the Automobile
exhibit. Granted it's been a while since I've been anywhere so any excuse would be good, but the opportunity to see such a fascinating collection of automobiles was irresistible.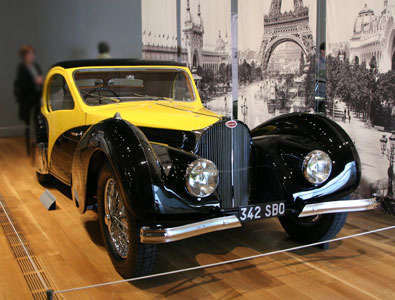 The High Museum houses as a collection of exhibits, some permanent, others made Atlanta a temporary home in their travels. My husband and I spent most of our time at automotive exhibit. The sheer size of some of the vehicles was immense, dwarfing even today's Expeditions and Escalades that tower over modern full-size cars on the road. The focus was on rare and unique cars of the 1930's to 1960's. Many shown were valued in the millions, and all truly priceless in that there were so few made initially, much less surviving today. Seeing some of these cars is a once-in-a-lifetime experience and on June 20th they return to their respective owners.
(I kept coming back to admire and photograph this Bugatti. To borrow a phrase from the Jeremy Clarkson book of car descriptivism, it was

absolutely stunning.

)
We made the requisite pass through other exhibits including 14th to 19th century european art, architecture and photography exhibits, and wandered through the contemporary art. The contemporary areas reminded us that we share the same view of it; it's the one where we both stand there with a slightly baffled look, scratching our heads and wondering what exactly influenced the artist to adhere a malformed metal sack to the bottom of an equally bizarre metal sculpture. Was it acid? Maybe too much vodka? For now I'll remain content to stare and wonder "Huh?"
Friday night while roaming around
Atlantic Station
in search of dinner, we came across
Copeland's Cheesecake Bistro
. It had a jazzy, upbeat decor and every table was filled, even at 10pm. I ordered the Almond Crusted Trout Meuniere; the trout was a bit bland and would have been improved with a dash of lemon. What made the dish noteworthy was the onion straws, as they added a needed zing to the flavor overall. Between the garlic mashed potatoes and the creamy marinara linguine served with my husband's Parmesan Crusted Chicken dish, it was clear the kitchen wasn't stingy with the garlic. It was potent enough I should be vampire-safe for a while, but it was not overpowering in either dish. The Parmesan Crusted Chicken was surprisingly moist and not overly salty, which can easily happen with a chicken tenderloin dish.
The next night we decided to go for something a little different.
Flip Burger Boutique
is where the cool kids go for a burger. With a bustling, music throbbing atmosphere and very quirky decor, its not the destination for a quiet dinner. From the menu, they have great onion rings, some of the best I've tasted. They lost something as they cool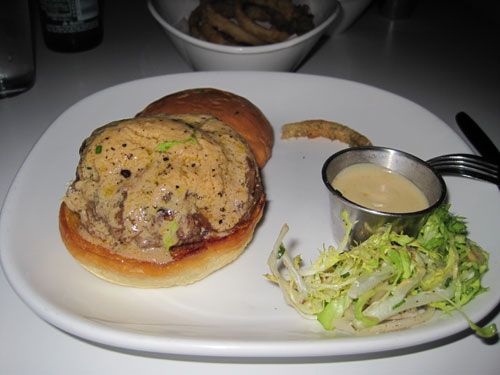 ed off but in contrast the french fries did not. The flip burger was not really noteworthy and was a bit on the bland side. The A5, a Kobe burger with foie gras, truffle oil and a red wine syrup was a real standout. Then again it should be something special. As we reviewed the menu, I wondered aloud what a $39 burger tastes like. I can now say I have had a Kobe burger and a $39 burger at that. It was juicy and had a distinctive blend of flavors from the oil, syrup and foie gras that pared well with the excellent flavor of the beef. For desert we shared a Krispy Kreme shake. What exactly makes a Krispy Kreme shake? Tiny bits of Krispy Kreme donut blended into a vanilla milkshake. Pretty tasty, like the rest of the meal, but not quite the earth-moving experience one would hope for, especially from a $39 burger.
(So what does at $39 burger look like? See the pic above.)
Sunday afternoon we made a pass through
Ikea
. When I mention in conversation that the cinnamon rolls there are exceptionally good, sized large enough to share and priced at merely one dollar each, I get some puzzled looks. How could this Ikea place produce a shared lunch of one generously sized slice of cheese pizza, one large cinnamon roll and two bottles of water for under $5? All it takes is a visit to one of their stores and it becomes obvious that the good quality of food at such meager prices fits their business persona perfectly. Thankfully the closest one to me is an eight hour drive, explaining in part the odd responses I get to their food. Due to the distance it's more a destination and I don't feel guilty when I walk in the store, inhale the aroma of those fresh baked cinnamon rolls and know instantly I will not be able to resist the temptation. One of those tasty treats
will
be consumed before I leave the premises. Oh by the way, they sell some interesting stuff to furnish your home and office too. (The restaurant is merely an aside to the main purpose of the store, shopping.) Pricing is very moderate and the style is mostly contemporary; if I were furnishing a dorm room, small apartment or condo, I'd be making the drive to an Ikea. Making the absolute most use of a very small living space is something they have down to a science. Who else can put together a functional living room, kitchen and bedroom into a 350 square foot space? I don't know I could anymore, it's been just long enough from my dorm dwelling days so that now I've accumulated enough stuff to make condensing down challenging. Ask my husband, I don't do condensing unless properly motivated.
A surprise in the food department was the breakfast at our hotel,
the Residence Inn
. It was actually better than adequate! Check out any hotel that serves a continental or "hot" breakfast that is included with all rooms. The spread will contain bread, some sort of small pastry (muffin, croissant, or danish, all interchangeable), under-ripe fruit such as bananas or apples, yogurt, fruit juice and milk. The fancy ones might spring for granola or some canned "fresh" fruit, or even English muffins. If they serve a "hot breakfast" prepare for pre-cooked sausage patties, bacon or powdered eggs. Some like to add a belgian waffle station so they can lay claim to the "hot" breakfast title too, however 95% of the time the ones going for the waffles are the little kids and teenage boys. So when I found the obligatory green bananas and cake-like muffins plus a few more items at breakfast, I was glad to see the added choices. The surprise came when I tasted the food and it wasn't totally blah, it was actually
good.
Speaking of the hotel, the location couldn't have been more convenient if I'd planned it. All within a less than 5 minute drive were most of our destinations, most closer than that. Our top floor room was well sized and the layout spacious. With the top floor rooms, the ceilings are very high with exposed beams, contributing to the open feel of the room. I have two across-the-board complaints about virtually every hotel I visit; noise from the hallway and a lack of well placed plugins. While this hotel did have the typical hallway noise, I was impressed with the thought put into the plugins. There weren't just a few of them, they were plentiful and spread out with good placement throughout the suite. Kudos to you, Residence Inn Atlanta Midtown for making life easy for today's teched-up traveler!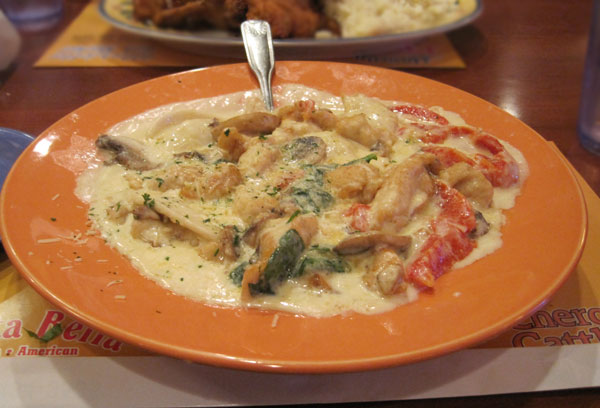 As I promised
here
a couple of years ago, we returned to the
Marietta Diner
on Sunday night. The cheesesticks appetizer was a great start to a good meal as well as the spanakoptia. As normal for there, the portions were gargantuan, with the fried chicken being a WHOLE chicken, and the Perogies in my dish were the size of my fist. The perogies
(photo at left)
were in a dish with sautéed mushrooms, spinach, red peppers and chicken, which was then topped with a garlic (more garlic) alfredo sauce. The fried chicken was a bit on the sweet side, a bit more than I like. For dessert, and who can go to this place without ordering desert, we had a pastry labeled simply "Koh"
(photo on right)
which our waitress really didn't know much about other than she'd been told it was good. Whoever told her that was right, as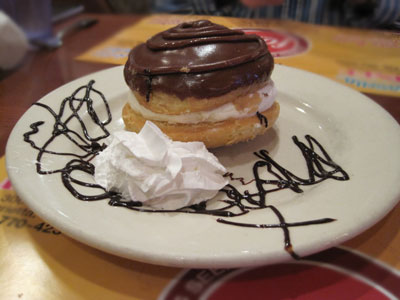 whatever the creme filling in the middle was, I could have eaten it alone with a spoon. Overall the Marietta Diner didn't disappoint and I'd still encourage anyone passing through the area to make the stop. Just be prepared to take some time to take in the vast menu, it's really that huge.
On this trip, we also made a stop at the
World of Coca-Cola museum
. It's interesting how the company makes this piece of a gargantuan marketing machine something actually worth paying to see. I won't share a lot of details and spoil the fun for those who may visit, but the tasting room is an experience not to be missed, and be sure to try the Beverly!