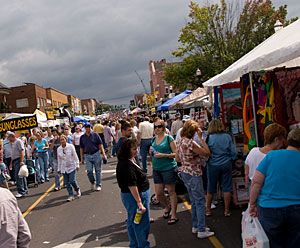 For a classic Southern festival with all the character, odd items for sale and next to every food possible deep-fried, the
World Chicken Festival
in London, Kentucky is a prime example. Every summer this small town opens up its doors to the world and according to locals about 300,000 people pour in for all the festivities. Less than twenty miles down the road from the home to the original KFC in Corbin, Kentucky, London hosts the yearly festival over several closed off blocks downtown. Besides, any event that advertises the "worlds largest skillet" is worth checking out.
We spent a couple of hours roaming the street, ducking into booths of local wares, t-shirts, toys to tempt the younger crowd, and of course a few places with items pawned off as local with those little "made in china" stickers still prominently affixed. For those looking to mingle with the unnaturally gorgeous types that live in tv-land, this isn't the place. It's a place to disappear in a t-shirt clad denim world. That infamous skillet is located at one end of main street; the line for chicken meals was long enough that despite my strong desire to consume something from a skillet so large it requires a garden rake to stir, I gave in to the call of a shorter line for funnel cake instead. It was a tough decision, mass quantities of fried chicken or a funnel cake... hmm... fried and artery clogging in the sweet or savory form... Either one has a truly satisfying effect.
Despite the size of the crowd and location, parking wasn't terribly difficult or expensive. Rather than starting at the nearby lemonade stand where they didn't even make a pretense of trying to hide the Country Time Instant Mix they were using to make their $5 a glass "ho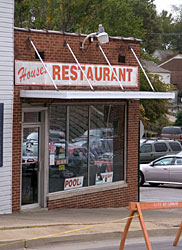 memade" lemonade, we stopped at a local restaurant for lunch on the way to Main Street. House's Restaurant was a real find. The food was good, but what really made it exceptional was the hospitality of owners Dean and Doris and their really cool pool hall in back. Decorated with quirky message signs and memorabilia and with the tunes provided by a real jukebox (the kind that plays 45 singles) the pool hall was the kind of place you could hang out for hours and never get bored, while never really doing much either. Owner Doris is there grilling up burgers daily, and it's clearly one of those fixtures in the area; the restaurant has been in the same spot since 1963. Well worth the stop on 4th Street, plus it's right on the way to Main street and the Chicken Festival.
To compensate for the overload of inevitable fried goodies that ultimately most any visitor to the festival will be tempted into consuming, the day starts with a 5K run. It certainly made me feel better knowing that I'd prepaid my penance for the funnel cake I ate that afternoon. Plus the course for the race was interesting, and definitely hilly enough to be challenging. For those who are not into such a hardy wake-up, sleeping in until the parade starts at around 11am is a perfectly acceptable substitute.
Overall it's worth a drive, but at 7 hours one-way, I'll probably not make it a yearly pilgrimage. But if I did go back, I'd probably wait in line for a piece of chicken.