The food at
Road America
was horrible, really. Don't go to the track and eat. The people you see eating? They're desperate individuals clamoring for any semi-edible substance.
Well, ok... not really. In actuality, it's good. Really,
really
good. I just don't want the word to get out because the lines will get long.
The numerous food stands are run by local civic organizations, so it's in their interest to make the food worth eating and they succeed. In that whole sensory overload department, it fills in the gaps where the track ends. The smell of burgers, chicken and brats cooking over massive grills fills the air near every stand. The smoke curling up into the air provides a guide to the source of that delicious scent. Step around to the counter and the menus range from fresh cheese curds, which I ordered with apparently enough southern accent to entertain the locals manning one stand, to burgers to something called a "Walking Taco." Anything with that strange of a name I had to try. One Doritos bag filled with crushed chips, some sort of meat concoction, cheese, and salsa later I will admit, it was money well spent. Fresh roasted corn dipped in melted butter, homemade ice cream cookie sandwiches, grilled brats; it was all the makings of county fair food, with a bit less of that "we'll deep fry
anyth
ing
" approach that dominates in the south.
Outside of the track, we went to Elkhart Lake (remember, population just over 1000) for some amazingly good meals. The
Paddock Club
was probably one of my favorites with their fresh made pasta, fantastic beef fillet and Panna Cotta so good I ate every last bite and might have licked the plate were I not with a group of friends, and in public. Another evening, we had dinner at the
Back Porch
, literally on the restaurant's back porch overlooking Elkhart Lake. T
he sunset view was beautiful and while we tried cheese plates most everywhere this one was probably my favorite. I'm guessing that the wait staff heard "what kind of cheese is this one again?" few too many times so they got creative on the plating with a handy paper diagram
(see photo.)
I'm also admittedly no connoisseur in the adult beverage department, but the Grape Martini at
Seibkins
as well as the Key Lime Martini at Back Porch were excellent ways to finish the fun day.
After about four days of cheese at virtually every meal, my body made it very clear that I was going to have to either slow down chowing down on the cheese or toss someone else the keys to the golf cart and walk around the track if I had any hopes of curtailing the artery clogging that was occurring at an alarming rate. Our group opted for a view of Lake Michigan at
Seabird
in Sheboygan after the races ended Sunday evening. I have to admit, it was the one place I was a bit concerned might not be good given the lack of patrons at the time, but it wasn't bad at all. The Phyllo Triangles were good as well as the roast half chicken. I think after four days of exceptional cuisine, I might have even been a bit burned out and in need of a no-frills meal or just some my own cooking.
During our last day there, we found a little local place called
Restoration Gardens
near Kohler. As much as I enjoyed the previous restaurants, this definitely was for the locals, which is my kind of place. There I had one of the best cinnamon rolls and a fantastic grilled apple & cheese sandwich. Yes, more cheese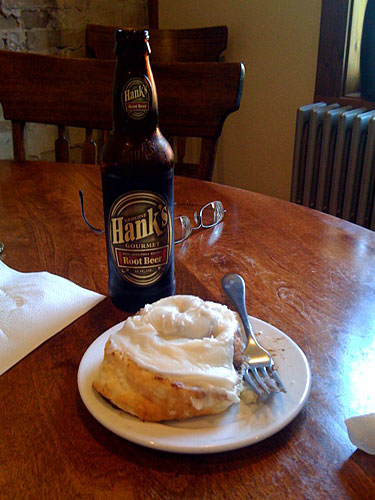 , but I had taken the previous day off from my cheese quest. I also sampled
Hank's Root Beer
which I will look for on restaurant menus; it was some of the best root beer I've ever tasted. It pairs surprisingly well with cinnamon rolls too. Who'd have thought it?
(Those who know me well know I really don't drink sodas, and
for the rare occasion I do, it's usually root beer. Thus my approval of Hank's is extra high praise.)
We also made a stop in at
Craviere
, a Kohler area chocolatier that displays chocolates in cases reminiscent of a fine jewelry shop. Prices tend to match the display, but one taste and the price really becomes "who cares?" The dark mountain toffees were a fine example of their chocolate without breaking the bank and the rare facets were just as delicious as they were elegant to see. It was just another stop that brought on more sensory overload, but still in a good way.
We also found something strange about Sheboygan. On Monday, the town shuts down. When we noticed the lack of traffic and the grand total of about four restaurants open, it made us wonder what was happening. Our waitress at local upscale pizzeria
Il Ritrovo
that evening confirmed that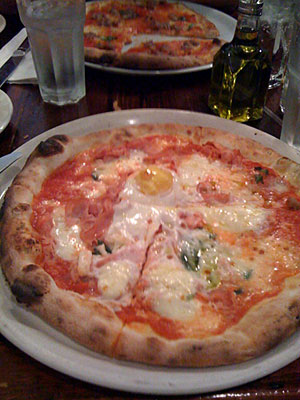 the streets are rolled up on Mondays. Speaking of Il Ritrovo, they serve wood-fired oven pizzas topped with some peculiar combinations. Seeing firsthand my ham & egg pizza topped with a fried egg struck me as a bit odd at first, but being my adventurous self, I couldn't resist. It was worth it too. Just don't ask for Pepperoni, they do not serve something that utterly common.
I can't complain about a single meal for the whole trip which rarely happens. I guess the breakfast at the hotel was a bit lacking in choices, but it was the standard complimentary continental breakfast fare. There were a couple of nights that it took a bit past our reservation time to get seated. One restaurant sent its full-bellied patrons up a long, steep staircase just to get out of the place. So if I really wanted to find fault, I am sure I could dig in and think of some fine details that were overlooked somewhere. Sometimes though, I think why bother to tarnish the memory of such good eats? I think these will stay as just that, good food in a good little town that welcomes its guests with full plates of food.