Sitting in my hotel room in Wisconsin and having never been to any sort of automotive racing other than a few times as a teen watching the Demolition Derby at the local county fair, I really can't say I knew what to expect.
The whole thing was an experience like no other. Just taking in the four miles of road course tucked into the Wisconsin countryside with wooded areas scattered about, the setting was peaceful. Out of nowhere, the roar of a 1970's era racer would arrive followed promptly by a view of the car and it's pavement-focused driver. For the car buff, the photographer or even just the outdoorsy type, it's a bit of nirvana. If you happen to be a bit of all three like me, it's a bit of sensory overload. What to see, do and absorb first?
I started off by doing the track touring. It's an opportunity for those like me who wish they had a third of the mental connection the seasoned track drivers do with their automobiles. Despite having an experienced friend who in another life must be a driving instructor in my passenger seat, the first couple of laps were a little unnerving. The next thing I know, it's time to exit the track as the allotted 50 minutes or so had already zipped past, almost as fast as the blur of Ferrari's that had roared by me two laps ago. For some reason, I didn't mind so much being passed.
The rest of the first day my husband and I spent exploring the track and trying to stay warm and dry. Who knew that Mother Nature would bring weather so cool that it was challenging 104-year record low temperatures? Thankfully, the group we were with had rented several golf carts to get around the paddocks and various vantage points. I can't begin to imagine how they went to this event for years and didn't have any small transportation like the golf carts. Somehow they can't seem to remember how they did it either, other than to say they were smacking themselves for not renting the carts all those years prior.
Over the next two days, the weather improved and we would spend tim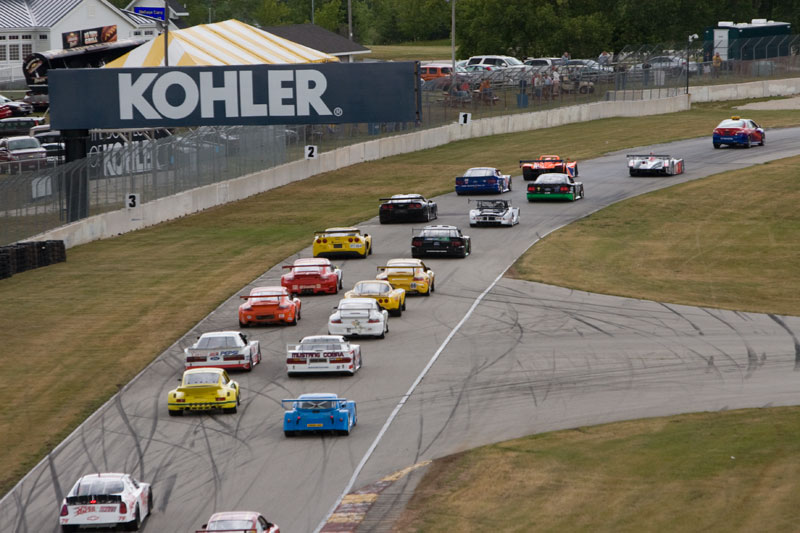 e roaming the track, watching the Morgans, the Ford GTs and GT40s, the Ferraris, Porsches and so many other fascinating cars make lap after lap around the track. There simply wasn't a bad vantage point. Race photographers didn't gather in one media area, they moved about various places around the track as did I with my once "big" lens that seemed to shrink in the presence of the pros and their monstrous lenses.
That was the "Road" of Road America, and I could go on for days about the collection of cars. Things I'd only read about and seen in photos were there for me to admire, photograph and admire some more. Car lovers beware, this place will take you in and not let go.
I might have been taken in by the sights, sounds and even smells, I didn't forget the tastes too. Those are up next...