There's a certain set of elements common to the small, southern, tourist-friendly town that makes these types of places easily identifiable. For the tourist, they center around a cluster of a few blocks containing local specialty shops, or at least shops that put up a "local" appearance. Mixed in are a few restaurants that primarily focus on the area's reputation or heritage, from Victorian to German to whatever nickname the town has garnered over the years. Parking is always limited and awkward, and often the buildings are presented as old, regardless of their real age, as a way to draw in the nostalgia-seekers and history buffs. And there's almost always one good sweet shop or
chocolatier
selling their decadent treats to tourists needing a sugar-fix or a good way to truly blow their diet to smithereens.
I've been to a number of these towns, and when they aren't quite as well known beyond about a 200 mile radius, they tend to be more relaxing and maintain their charm. Once they reach much beyond that, they morph into something entirely different; they become a haven for rednecks, a tourist trap complete with twenty-sev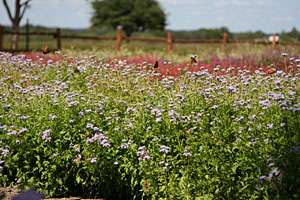 en miniature golf courses and traffic that slows to a crawl. When that change becomes imminent, I scratch them off my travel destination list. I've seen what both look like, and fortunately there's enough of the good kind left that I don't think we're in danger of them all going downhill to become the next version of "hillbilly hell."
Fredericksburg
shares the basics of the better type of these small towns. Parking isn't quite as difficult, although it is somewhat limited. The class of shops there is a bit of a step up from the typical corner ten-dollar t-shirt stands and trinket shops; those looking for designer label clothing can shop here quite well. Crowds were very moderate, and the main street blocks are a mostly flat, easily accessible area to roam around during the day. It's clear that a number of the shops aren't someone's dream business where they've poured every last penny of savings into making it happen. Someone has provided quite generous funding so that no detail goes unnoticed, from the flooring to the light fixtures and every inch in-between. Not all are this way, but enough to make them worth noting.
The German heritage of the area shows in the restaurant menus, schnitzel in about every form is commonplace, as well as German beer, beer and more beer. Did I mention that they clearly must move a lot of German beer? While there, my husband and I went to
August E's
for dinner one night and
The Auslander Biergarten
another evening. Both were good, though I will say I liked the atmosphere and food overall a bit better at August E's.
For hotel, we chose a suite at the
Fredericksburg Inn & Suites
. It's well located for convenient access to the shopping and dining district. For the price, it wasn't bad but I would probably choose something a little quieter and newer for any return trips to the area. With the old school outside entrances to the rooms and a courtyard in the middle with a large pool, it's going to be a bit noisy by design. The staff there was exceptionally friendly and helpful, which these days is a very pleasant find. The included continental breakfast was worth stopping to eat, and better than many others I've found.
Fredericksburg was our home base for the trip, but we spent a good deal of time driving the back roads of Texas Hill Country. The quality of roads that seem to be completely out in the m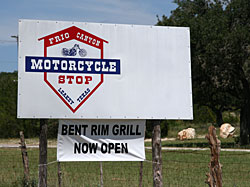 iddle of nowhere is pretty impressive. Another noteworthy thing was the friendly nature of other drivers. Anytime we were behind someone that was traveling a bit slower than we would prefer to go, all we had to do was wait a minute. As soon as it was reasonable to do so, they would pull off to the far right side of the lane, using the shoulder of the road as much as possible to allow us to pass. If only all slower drivers went to Texas for a little driving lesson...
sigh
. On Saturday, we made a lunch stop at
Frio Canyon Motorcycle Stop
in Leakey, Texas. Talk about your obscure places, this is up on the list of out-of-the-way eateries that's worth finding just for the experience. The eclectic collection of motorcycles, cars and other unusual motorized devices made for entertainment just walking through the parking lot. Oh and they serve food too.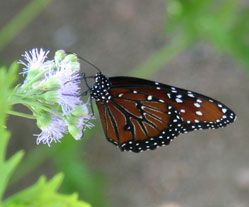 Also just a few miles east of Fredericksburg is
Wildseed Farms
. Their primary business is wildflower seed used throughout the US in highway areas for erosion control and other purposes. At their Fredericksburg store, they have a large selection of garden plants and gardening items, decorative accessories, locally produced foods like honey and preserves. They also have a $5 tour of their Butterfly Haus and trial gardens. For a amateur photographer or hobbyist, this place will virtually guarantee a need to go buy more camera memory cards on the way back into town. I clicked away until I saw the dreaded "CF Full" on the display and let that be my indicator I'd been behind the lens long enough.
(See picture at left from the Butterfly Haus and above from the trial gardens. )
I'd rank Fredericksburg up in the group of still really undiscovered small tourist-friendly towns with places like Blowing Rock, North Carolina or St. Charles, Missouri. It's a bit more upscale like those two towns, but with the benefit of Texas Hill Country roads right at it's doorstep, it does have some extra mileage. The only downside I see is that it's a 13 hour drive to get there. That's a
long
way to drive, especially when a significant portion of the plan after I get there is to go for a drive.