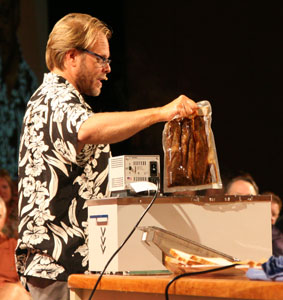 Recently I made my yearly pilgrimage to Nashville to see
Alton Brown
's seminar. As always, it was well worth the trip and he has a fun and informative talk. I always come away with a case of the "wants" for new toys that he's using on stage. This year was no exception, he used a
Thermal Circulating Bath
to slowly cook beef spareribs.
(See picture at left.)
I hope that Alton is right in his theory that we'll be seeing these machines become more consumer level in usability, size and price. I just don't have a deep abiding love of ribs, and so far I've not found a recipe that is so spectacular as to justify lightening my wallet by a few thousand dollars. Get the cost down into the few hundred range and it might get more appealing.
The event was at the
Gaylord Opryland Hotel
, as it has been the last couple of years. It has been renovated which is nice, but the details were skipped somewhat. It seems the quality of maintenance has declined over the last couple of years. The resort has become very much a convention oriented hotel, with I suspect a grand total of about five rooms with king beds in the whole facility. Despite reserving a king bed room three years in a row, I've yet to get one. Apparently the whole Gaylord reservation system is a disaster as I haven't gotten the right type room I've reserved anytime I've been to any Gaylord location. Not once. The hotel overall is still worth visiting just because the immense indoor gardens are a visual treat. They're a shutterbug's idea of a fun house, giving me a chance to hone my mad photography skills.
Within the property is Old Hickory Steakhouse, an upscale restaurant heavily oriented to the carnivore. The atmosphere and presentation are excellent, but the food was a bit disappointing. Previous visits were better but this time didn't impress me all that much, especially for the price. The restaurants overall on the property tend to be overpriced; and while the buffets offer a plentiful variety, they're just moderate in quality and taste.
Saturday morning provided us a chance to meet Alton during a breakfast Meet & Greet. The staff there put together a well run event that morning, with a nice variety of interesting dishes that I wouldn't expect to find on any buffets there. They came with the recipes too, so I've already repeated a couple of them at home. The food at this part of the event served as a clear indicator that while they do have the ability to serve up some quality dishes, the corporate rules don't let them showcase these talents in the restaurants. The presentation was great too; if I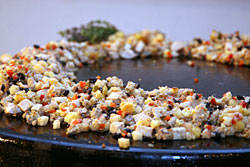 could have found a way to get my hands on the "portable flat-top" they used to cook the Turkey Re-Hash, I'd have one right now. Not that I have a clue what I'd use it for, but it's one of those culinary goodies that drives me into finding recipes to justify it's existence in my kitchen. Or garage as would be the case here. This thing is pretty sizable. I appreciate the helpfulness of the chef manning the devise, as he was quite happy to show off that slab of cooking goodness.
(See picture at right.)
On Saturday evening we found Macke's, a small and obviously somewhat not well known delicious restaurant. Patrons should be lined up out the door of this place. We had excellent food all around! The shrimp appetizer was phenomenal, as well as the low country boil. I believe the menu changes seasonally, which definitely makes me want to go back more than once. It was quiet and the setting perfect for a relaxing dinner to end a great day of entertainment, education and downright fun.