After being cooped up all winter, by March it's time to GO. I'm ready to leave behind the weather that's only just thinking about spring, the holiday rush of work, all that. Just go somewhere warm, beautiful and tropical.
About two years ago my husband & I discovered that even as an adult, spring break is a wonderful thing. It revives the brain and body and gets me ready to get some work done with a bit more enthusiasm, which by March is something I'm usually lacking. We started with a road trip to San Antonio about 3 years ago. We didn't restrict it to a tropical locale, but rather something within a day's drive and warmer than home. San Antonio fit the bill perfectly for that spring.
The following spring was another story. A bit of arm twisting by my husband and friendly peer pressure from friends later, I reluctantly agreed to go on our first cruise. I'm not at all a water sports person. About the only good water in my book is the kind in my glass I'm drinking, or the kind I see out my hotel room window in the backdrop. I'm certainly not looking to get
into
said water. Why would I do that? It's fine as it is, can't I leave well enough alone?
Jump forward to this spring and in March we went on our second cruise with the same friends who talked me into the first one. This year no arm twisting was required; if anything it was me twisting their arms. I might have even said "Let's GO already!" a few times. So as no longer the total newbies to cruising, we made a few changes and learned some new lessons.
We were far more selective about the location of our cabins. One particularly long night of bad karaoke drifting up from the bar below us on our previous trip taught us to look carefully at the decks above & below. We also sprung for slight premium to get the convenience of more mid-ship rooms with balconies. Both contributed to money very well spent. With the daily changing views and the extra square footage it made spending time in our cabin quite pleasant.
We had two ports on this cruise, Ocho Rios, Jamaica and Georgetown, Grand Cayman. The advise of friends who had previously visited Jamaica was simply "don't go." My experience was quite the opposite, I say go there but make sure to get a good local tour guide. After reading several recommendations for
Marva Shaw
online, we booked with her. She and her tour company
Know Jamaica
definitely made the trip great. It was interesting to see how beautiful the country is, while many of it's people live at poverty levels. Only the wealthy are educated, as there's no public education system. If I recall correctly, the unemployment rate hovers around 30% there. It's sad to see a population so financially depressed in such a breathtaking setting. A private tour of the botanical gard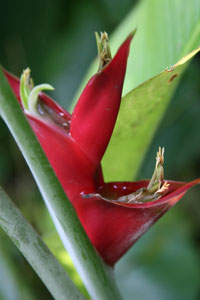 ens and a trip to Dunns River Falls make the day active yet an easy pace. We finished off with a meal at
BibiBips
for some authentic Jamaican food despite its location in a tourist area. The local Red Stripe Beer battered shrimp were excellent as well as the jerk chicken, local style fish and
bammy
, a local preparation for cassava root.
Georgetown was more polished and clearly catered to a wealthier citizenry and visitors. We spent most of our day here on the beach, lazing around in the water. We caught a taxi to a nearby access point and found a place to relax. As I mentioned before, water sports aren't my thing; a more accurate statement is I'm simply non-buoyant. However this was the single most wonderful stretch of ocean I've ever seen. It was so calm and relaxing even I was willing to wade out into the water far beyond my normal comfort zone. This is one place I could go and really spend some time at the beach and even in the water, without clinging to the sand in utter fear.
(Photo at left is from the botanical gardens.)
Other things we learned on this cruise... Not all ships and cruise lines are created equal. For a number of years I've heard that
Royal Caribbean
is
the
cruise ship line. Had I not cruised on
Celebrity
before, I'd have been fairly impressed. But I had, so it paled in comparison. The quality of food, the overall attentiveness of most of the staff and most of all the attention to detail simply isn't what it is at Celebrity. The minimal price difference is worth the step up in quality. Our ship for this trip, Navigator of the Seas, was immense and certainly had nearly everything on board we could possibly want. Food was plentiful enough there was no need to ever go hungry. The quality just wasn't quite there.
So despite a drop in quality from the ship itself, the trip was great. For cruising, I do think taking along friends makes it even more fun. It doesn't hurt we travel well together and all really like to eat, be lazy, and then eat some more. No doubt I am looking forward to next March and our return to the Caribbean on one of the newest Celebrity ships.