Nothing like being sick on a weekend, especially a long holiday weekend to keep me sitting around bored. The only upside is I can get in a lot of reading. Sometimes even updating my blog!
I have this habit of finding a really fun event, then if I find I like it, making it a yearly occurrence. There are a number of places I've visited that while they were good, they weren't quite the "lets come back next year" type of destination.
Alton Brown's
seminar at the
Gaylord Opryland Hotel
in Nashville is one of those events worth going back each year and this year was no exception.
Last year I gave the hotel some poor marks as it seemed a bit less kept at tip-top shape than it had in the past. Thankfully I can report that this year they've gone back to the quality I'd come to expect. The rooms have all been renovated, and with a 4th floor Delta room, we had a fantastic view. For the first time I can recall, we got the exact type of room we requested, down to every detail; located in the Delta section, near the exhibit halls, a king-size bed, located nearby our friends traveling with us and most importantly, a balcony. Big kudos to the staff that made that happen! For those who've not been to the resort, it's comparable in size to the behemoths in Las Vegas. A room nearby the places you want to go can save you from coming home needing a vacation to recover from your vacation.
The first night we attended a private cocktail reception and dinner for us and 40 of our "closest friends" with Alton Brown. Surprisingly, it was so well done that it didn't seem quite like there were 40 of us. Just getting to stand around and chat a bit with Alton was great, not at all like the typical hurried rush of a book-signing. While we had our dinner at the
Old Hickory restaurant
, he mingled about the tables talking about just whatever topic came up. Speaking of the dinner, it was one of the more interesting meals I've had in a while. Without covering every course in detail, although I probably should given the rather sizable cost of the meal, it was definitely not a menu of items I'd have ordered, but I was glad to have the opportunity to try them all. The steak was an unusual cut of beef, and to me tasted great. Then there was desert, which included a pretty scoop of gelato,
which my husband dove into enthusiastically. That is, until he tasted the first bite and realized it was
basil
gelato. After turning about eight shades of basil green, he swallowed and decided he was done with the desert after all.
(In photo at left, the scoop on the right side. See? Looks harmless enough.)
Suffice it to say that after spending that much for a meal that ended with basil gelato, I am confident I will get occasional reminders of it for a long time. (Which I did, just yesterday.)
Alton's seminar the next day was informative and fun as always. Every year I learn something either about cooking or food in general and come away with at least one new recipe. This year his lesson stemmed from his recent weight loss. Fourty pounds lighter than he started the year, Alton shared with the crowd one big change he made... "less going into the pie hole." In his usual analytic approach, he explained how he looked not just quantities but the types of food he was eating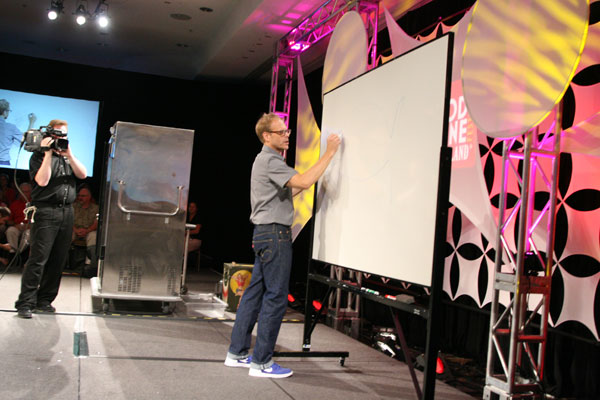 and saw what lead up to the weight he had gained over the years. One big change he made was in the types of fats he was consuming, thus leading into his presentation centered around healthful fish, specifically trout. He prepared trout three ways on stage, all of which looked delicious. Attendees of the event get a copy of all three recipes, and I am looking forward to trying at least a couple of them soon.
What he didn't discuss on stage about his weight loss was the part that isn't of interest to most foodies, the exercise. That he discussed with a couple of us exercise junkies at the previous night's cocktail reception. I always find it reassuring hearing others reiterate what I know to be true for me, which is that eating habit changes will help take off the weight, but exercise is key to keeping it off and being all-around healthier. Alton and I discussed his new-found interest in running and other cross-training; I could relate to his picking up running well past high school. I certainly would have never described myself as athletic, and up until recent years happily did my best to avoid all things athlete. However, "exercise is essential" isn't what those struggling with weight challenges want to hear, but the bottom line is it takes both nutritional balance and exercise for long-term, long-lasting benefits.
And now I will step down off my virtual soapbox.
This year the hotel took Alton's seminar and expanded it drastically. It became a weekend-long event called the Southern Food & Wine Festival and included two other speakers, the Dean brothers and the Neelys. Also included was an exhibit hall full of mostly southern vendors offering everything from truffles to trailer-sized gas grills. It was a foodie's fun house with samples in overabundance. We didn't have quite enough time to really stroll through the place like I'd have preferred, but I did give everything at least a cursory glance. Compared to the industry-only food shows I've attended in the past, it was smaller but almost as much fun.
This year we got a bit lazy and decided not to find dinner off property but rather find something at the resort. We wandered into
Findley's Irish Pub
and found it good for a couple of things, bar food and people watching. Another convention was ending one event and its participants were being gingerly ushered down a red carpet from their exhibit hall area into a night club next to the pub. I'm not sure we ever figured out what the convention was about, but they were dressed in mostly formal attire, with the occasional strange "accent" pieces. It made for good entertainment anyway as we dined. In regards to the food at the pub, the burger served on an english muffin was good as was the cheese sampler plate. Overall though, the parade of conventioneers passing by was probably the highlight of that meal.
As always we made a point to stop by the Godiva store, and after drinking one
Chocolixir
, I am thankful that the store is miles from my home. That is one addictive concoction that I would drink at every opportunity, and my running legs are grateful that the opportunities are not plentiful or they would pay the price frequently.
One last little tidbit that made our trip exceptional this year was the decision to rent a Segway from
Segway of Nashville
. The owner was fantastic to work with, and it made easy work of getting from one end of the hotel to the other. Gauging from the responses of the public visiting at the resort, the notion that Segways are viewed as "dorky" seems to be a misconception. People were fascinated by the device, some merely stole second glances, others stopped us to chat and ask questions. I wouldn't have expected to find it easy to maneuver in a tightly crowded exhibit hall, but inching along in a crowd wasn't a challenge. It's simply best described as fun and easy transportation, no question about it.
If they'll stay on this track, I'll be back next year.
Thanks to Warren Lyng for putting together such a fantastic event, as always. Thanks to Kye for the pic of the desert. Man that was seriously good eats!