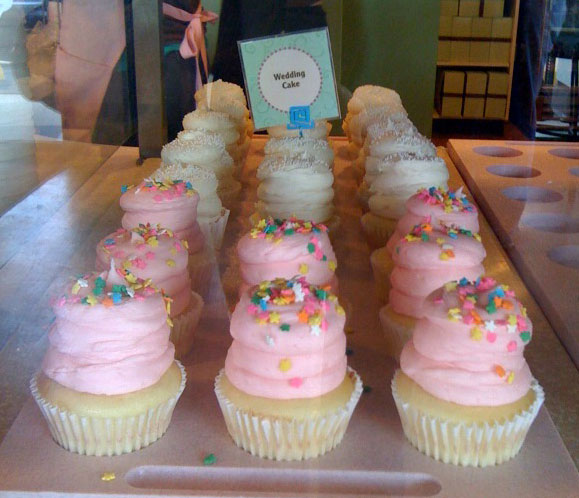 Any day that starts with a scrumptious cupcake as a prelude to lunch can't be all bad. Sure enough, the rest of the day lived up to my high expectations.
The day I speak of was last Saturday. I went on a day trip to Memphis with my husband and friends. Our goal for the day was to eat our way through the city with some shopping interspersed to reduce the likely onset of guilt and gluttony.
First stop was the cupcake shop,
Gigi's
.
(Photo above is the display case. I'm fighting the urge to lick my screen right now.)
I'm definitely an ardent fan of the treats from
Cupcakes on Kavanaugh
in Little Rock, and it will always be a little extra special to me because it was where I first tasted a truly "gourmet" cupcake. It was a eye-opening moment to take in the mountain of rich icing atop a moist gem of cake goodness. I would list Gigi's as a solid runner-up in the gourmet cupcake category if I were making such lists. Just like Cupcakes on Kavanaugh, the cake part itself lacks a little in the homemade flavor and texture, but the icing makes up for it in both quantity and quality. It's superb. Thanks to friends with a willingness to share (and cupcakes giant enough to make sharing possible) I was able to sample Chocolate Malt, Milk Chocolate, Wedding Cake and Scarlett's Velvet. While they were all good and the Malt would please any malt fan, Scarlett's Velv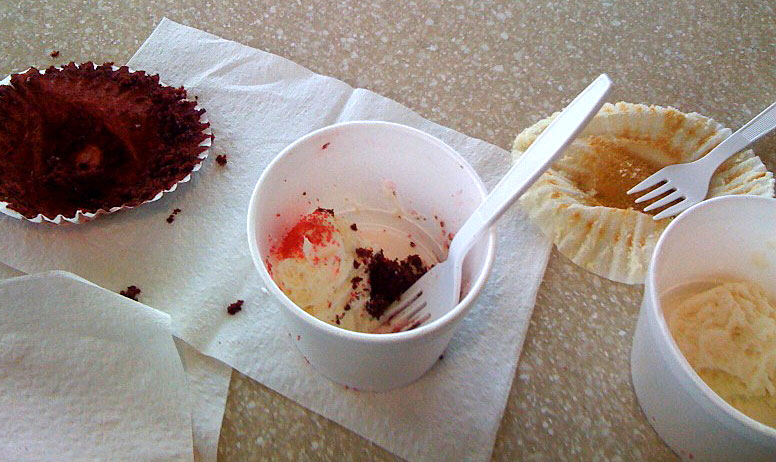 et was my favorite. It was the most moist and the icing atop wasn't quite as starkly sweet. That said, there wasn't a bad bite in the bunch as you can see from the photo of the aftermath.
(Photo at right.)
We made a few shopping stops (I highly recommend
Fleet Feet on Poplar
to the runners/walkers out there) and headed out to
The Avenue at Carriage Crossing
in Collierville. Memphis is a city that has very defined areas where it's safe to be after dark. Just driving across the city, we saw a number of runners out soaking up the sunny spring day. Some probably could run with no more distraction than a neighbor's puppy wanting to play; others made me wonder how comfortable it would be running while packing heat. Either way, I could appreciate the beautiful weather and I'm even more appreciative of living in a reasonably safe enough town to step out my door and go for a run without having to dress like Laura Croft.
Anyway, The Avenue is an open-air shopping district that is made for beautiful spring days like this one. We stopped for lunch at
Crescent City
, a cajun cafe. Overall, the service was a mix of disinterested waitresses and one waiter hustling back & forth from the kitchen. The decor and atmosphere was relaxed and the location easily accessible. Of the items we ordered, the one standout was the Crawfish Dip, with excellent fresh tortilla chips. All the dishes had a spicy hot kick that was good but not overpowering. We also had an obligation to sample the Beignets as part of our eating across the city mission and were satisfied with them enough to push through more shopping afterward.
Our last food stop of the day was at
Firebirds Rocky Mountain Grill
. I've visited the restaurant before but my friends had not and were eager to try something new. While the food isn't what I'd call absolutely superb, it's a good bit better than the average casual dining fare. Since I've been on a bit of a seafood kick lately, I really enjoyed the grilled grouper I ordered. And the absolute last dish on the menu I'd have ordered, the Buffalo Meatloaf, turned out to be edible! It was good enough that I recall thinking "if meatloaf tasted like this, I'd actually eat it, and maybe even go so far as to make it myself." So yes, it was some pretty spectacular meatloaf to make me reconsider my dislike of it from childhood. Throwing the warm, rustic atmosphere into the mix, dinner at Firebirds made for a excellent way to relax at the end of a hard day of eating, shopping and strolling around on a gorgeous spring afternoon.