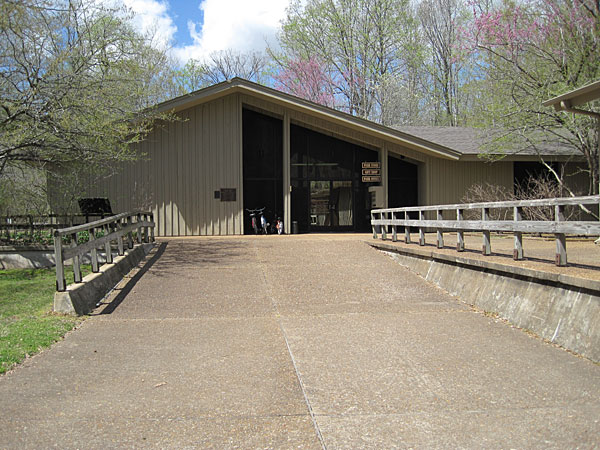 Last weekend Mother Nature finally allowed us to experience a bit of that wonderful spring weather I've been anxiously awaiting after what has seemed like an unending winter. So with temperatures predicted in the low 70's and sunshine on order, the husband and I decided to make a drive to
Village Creek State Park
near Wynne, Arkansas.
The state park falls along
Crowley's Ridge
, an unusual geologic formation that runs southward from the northeastern corner of Arkansas. In essence, it means for those with sports cars or motorcycles and a desire to find twisty roads it's a pathway to fun. The parkway that follows the ridge is favored among auto enthusiasts, motorcyclists and bicyclists that reside nearby. Driving to the park can be quick and bland by taking the main highways, or much more entertaining with decent quality roads (a little rough in some spots) that snake along the edge of the ridge. I did see one offshoot from the road we traveled with one of those magical "Crooked and Steep Next # Miles" signs and made note of the highway number. Oh yes, I will be back there to see if the sign is accurate and the road worthy of repeated travel.
The park itself is comprised of 7000 acres sitting atop Crowley's Ridge. It boasts two lakes and miles upon miles of trails for walking, hiking, cycling, or traveling on an ATV or horseback. We had our choice of many picnic tables overlooking Lake Austell and after a quick lunch went to the visitors center for more info about the trails. The one we walked, the Arboretum Trail, was a bit muddy in spots after the previous night's heavy rain, but that rain left every little creek running all along the trail. It's well marked, requires very minimal climbing and has signs pointing out some of the interesting trees along the path.
I was both pleased and impressed with the quality of the park. Arkansas does a great job with it's state parks; they're usually well maintained, clean and friendly to both the pedestrians and those on wheels. I hope to see more of the state's parks throughout the rest of the year. Right now I'm just happy to see spring!