If I'm going to dive into the good stuff of the cruise (the food) I think it's best to start at the beginning.
After spending the morning moving through the airport, we arrived at the ship about 3pm, all starving. With no trouble at all we were able to find the buffet available all afternoon to welcome you aboard. It was a good start with a variety of fresh seafood, meats, deserts, whatever your liking, all in abundance. The food overall was good in quality, excellent in presentation and ridiculous in massive quantities. As a complete picture for the entire cruise, I'd give it 4.5 out of 5 stars.
With a cruise, we had to choose in advance an early or later dinner time. This applies only if dining in the main restaurant, which we did the first night on board. Since we booked our cruise a bit last minute, we were assigned to early dining. Dinner the first night was very good, we could watch as we left port from the windows around us. The sunset was beautiful from there, if a bit blinding at times. One of my goals on the trip was to sample as many new dishes as possible. My new one for that evening was to taste the Terrine duckling with Ligonberry creme for an appetizer. It was a good way to start with the experiments!
That evening after dinner we found our new evening-hours home for the trip, the Martini Bar.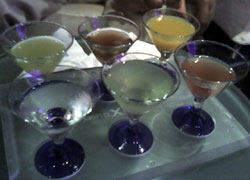 One of their two signature items is the Martini Flight (photo at right). Comprised of six small or mini martinis, it's a way to sample a variety of the specialty martinis they offer. Included is a gray goose vodka martini, appletini, raspberry martini, raspberry lemonade martini, pineapple martini and their signature which had a mix of pineapple and orange. The presentation made this drink notably cool, but all of them were quite good.
The bar itself had two walls of ice, a bar made of ice and overhead lights that gradually changed hues. The atmosphere was relaxing and our waiter was a really friendly guy from Jamaica. He explained a bit of the crew's lifestyle and their daily routine. The cruise crew works long hours, but the pay apparently is reasonably well. They get to visit most ports, as well as have time off during the year to spend with family. He returns home about once every two weeks; another waiter said he goes home about two or three times a year. In some countries, the cruise ship pay is so significantly better than any job they can acquire otherwise, the compensation is worth the frequent distance from family. Most of the staff we spoke to had been in the cruise industry for five, ten or twenty years. Many had been with Celebrity for several of those years and commented how working there had only improved since Royal Caribbean purchased the company.
There's more to come...