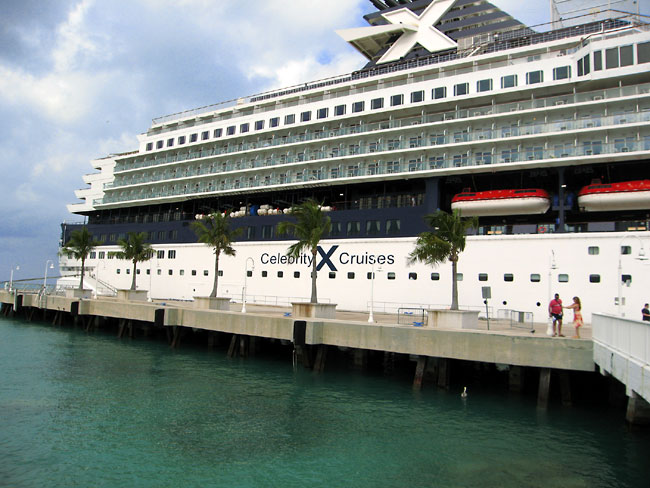 Monday evening I returned home from a 5 day cruise. It was the first time I've been on a cruise ship and I had a wonderful trip. For the uninitiated, I think it's important to share a few lessons I learned along the way. I'll post more later about all the adventures into both the culinary and cruising world I enjoyed.
Take extra time in selecting a cabin on the ship. While time in the room isn't usually plentiful, it should be a comfortable experience. A mid-ship location will get you convenient to everything, while a spot closer to either end will leave you with less foot-traffic wandering by your door at all hours.
A spot aft of the ship (in the rear) isn't necessarily quiet. It can be directly above the thrusters or engines, and when those big beasts roar into action it's noticeable. The bed will vibrate; just think, a vibrating bed for no extra cost but it does start and stop at random around 5am. Also as you pull into port the walls will rattle, the ceiling will rattle, your teeth rattle and the ice in your glass rattles, on some floors the ice breaks. This too occurs about 5am.
Being mid-ship is no guarantee of quiet either. Look at what is one floor above and below the cabin. If located directly one floor below there is a bar that doesn't close until 1 am where guests can partake in karaoke (poorly) right up until closing time, it's definitely going to be audible in the room and will also shake the floor. And the walls, depending on the song being butchered.
My room was an interior room, which overall has it's pros and cons. There's no window or balcony so the only light is what is overhead or from lamps. Lighting was more than adequate but there wasn't morning sun gleaming in to greet me. On the plus side, there wasn't any sun blinding me awake at 6am. It also makes a 3pm nap after a walking tour very nice. The interior rooms are less expensive, and for a first time cruise I think it was a good choice.
Enjoy the opportunities to let the ship photographers take pictures. The pictures will be available throughout the cruise, so the best time to buy pictures is at the very end. The ship I was on provided a free folio with a photo of the ship if I purchased four 8x10's anytime during the cruise. The pictures also make a great souvenir to bring back to family and are easier to pack for the trip home than a sombrero or an econo-size bottle of vodka or Mexican vanilla. Even if they're a bargain in Mexico, it's really no fun to go through the airport with anything liquid. If it's bigger than a thimble it must be packed and checked with luggage. I don't even want to think about the delay I could have faced going through customs...
Before the cruise, I had done a little research and found out that packing in a carry-on bag what I would be wearing the first night was a good idea. It did take a little time before the rest of the luggage arrived, so I was glad to have the items with me just in case.
It's impossible to try every single dish and every place to eat. I made a valiant effort, but failed. To keep from gaining an obscene amount of weight, I just sampled a little of everything. A sample is a couple of bites, not an entire serving. Speaking of servings, they are generous with the portions so it's very easy to lose a sense of how much is reasonable to eat. I can see how easily the average weight gain on a cruise is about five pounds. Food is available 24 hours, including room service!
The midnight buffet is worth trying at least once. Twice if there's something that strikes your fancy.
Take sunscreen and use it everywhere if the cruise is in the Caribbean. Even if you think you won't burn, you will without the sunscreen. Remember, if it's exposed to the sun, it can burn; this goes from the top of your head to your partially sandal covered feet.
Reserve any spa treatments or specialty restaurants as early as possible, preferably the day of embarkation. Excursions can be booked later, but if there's something specific that sounds exciting or very interesting, I think it is best to book in advance. I did and was glad I did so, it was one less thing to think about once the trip was underway.
Note the "Ship Time" and make sure to wear a watch set to that time when departing at port. It's entertaining to watch those souls who didn't want to be encumbered by the weight of a watch while off the ship make a frantic mad dash for the gangway as they realize it is rapidly leaving the dock. The ship does not delay it's departure because someone was drinking tequila shots in a bar in Cozumel and forgot that the bar clock was two hours behind the official "ship time." Those left behind have to find their own way to get to the next port, at their own expense. The moral of this tidbit: Don't miss the boat.
I had a great first time experience with the cruise and would certainly repeat the trip. I've actually been browsing around a little looking for the next one and where I'd like to go. I must admit my fear of not seeing land at certain points along the way faded rapidly once on board. Maybe it was just a mental barrier to not go until now, but I'm very glad I put my fear aside and took the plunge.
More on my first cruise is coming soon. My husband & I traveled with another couple and he has a few photos that I want to share here on his camera. I don't have access to those yet but surely he'll be getting me a copy of those pictures soon, right? (Ahem... hint, hint.)
After about the second day at sea my attempts at documentation of most meals tapered off a bit, but I'll cover things as much as possible based on fragments of notes and a blonde's happy memories.