This week I had the unpleasant experience of poor culinary judgment. Placing hot soup in a
Blendtec
Blender, then covering the steam vent on top with a towel and hitting the pulse button will cause you to have nasty burns on your arms, not to mention a kitchen covered in soup. Suffice it to say now that the burns are healing and the kitchen will be right once more with a bit of paint, I am still impressed with just how great a piece of machinery the blender is.
I was out in the Provo, Utah area recently (as is clear by previous posts) and one afternoon of "lets go exploring," which in my book equals out to driving around until something looks interesting and makes me want to stop, led to an interesting discovery. While trying to get to some unknown body of water in the distance, my husband and I passed through a light industrial district.
We both spotted the building and the sign and the same time.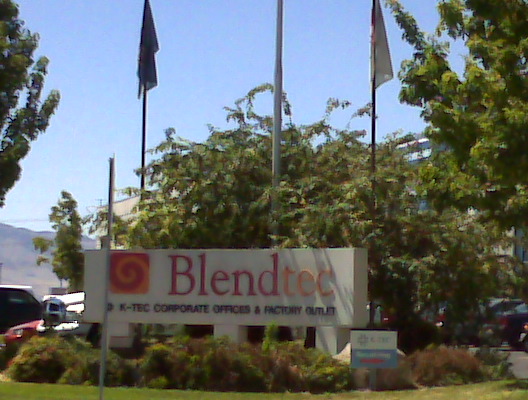 There it was... headquarters to one of the coolest kitchen devices on the planet and we'd accidentally found it. Feeling either slightly brave or crazy from the higher altitude, we went inside. The friendliest woman at the front desk was more than gracious, taking us into the small factory store as it was while chatting with us the whole time. She asked if we'd seen the
"Will it Blend?"
series of videos. Of course we had, it's what sparked my original interest in the device, and anything that can turn over 50 matchbox cars into dust in mere seconds can surely be an asset in my kitchen. Who doesn't need to decimate something at some point, right? Anyway, she offered to show us the set where they film the videos. I think walking onto that set was the high point of my entire trip to Utah, making the time spent in delayed flights and uncomfortable airline seats worth it. It's actually in a corner of what appears to be a factory employee break room. The table to the side holds a variety of soon-to-be-dust items such as plastic toys and cans of Spam, while several rakes sit waiting their impending doom nearby too. Yes, I think that this really was the highlight of my entire trip.