Last weekend I had the pleasure of a relaxing dinner with friends at
Sambuca
. Located in the trendy Gulch area, whatever a "gulch" is, it definitely lives up to the reputation. It surpasses what some of the new hot restaurants tend to be, which is overpriced and overbearing. When I walk into a restaurant and get that instant feeling I am the most dull, uninteresting person there and am merely and impediment to the staff getting to someone who is actually worth serving, the food has to be something pretty spectacular for me to forgive the attitude.
Fortunately this wasn't that type of place. While the atmosphere was trendy and cool, the staff was friendly and the menu quite inventive. I can't say I've had or even heard of Lobster Enchiladas until last weekend. They're tasty and I haven't a clue what I ate exactly. For those who've known me since childhood, this is a huge statement coming from me. I was the pickiest of eaters as a kid and I'm not sure what caused the transformation to make me the culinary guinea pig I am today but I prefer my newfound willingness to my past days of limited range. The variety of tastes available to sample at a place like this is downright fun. From the appetizer list, the Shrimp with Thai sauce was quite good. The Zebra Pasta (at right) is a visually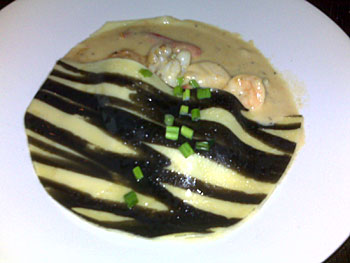 interesting dish with it's zebra patterned pasta sheets, plus the person at my table eating it seemed to have no trouble making the dish disappear. The Chevre Macaroni and Cheese with Prosciutto was probably my favorite dish of the evening. The sauces on just about every pasta I tasted were generous with the heavy cream, so this is not exactly a dieter's domain. It does make for some really great gourmet mac and cheese though.
Then there was the Wedding Cake Martini. The name alone was tempting, then after reading the ingredients list of vanilla vodka, tuaca, pineapple juice and cranberry juice I couldn't resist. Any drink that can smell perfectly like a beautiful white cake can't be
all
bad. It tasted just as good as it smelled, but the flavor struck me as Dump Cake. It's that cake where a bunch of fruit is dumped in the bottom of a pan, then a mixture of cake mix and a few other ingredients is dumped onto that. It's baked and it all blends together to make a moist, fruity white cake. Despite the name, it's pretty tasty stuff. This reminded me of that flavor instantly. In short, it's really,
really
good.
Something noteworthy about the atmosphere is the live music. The night we were there it was good, and surprisingly not so loud you couldn't hear the conversation. No shouting was necessary and we were seated nearby the stage. So many restaurants cover up their food with loud music and very low lighting. At Sambuca the balance was perfect.
Overall rating: 4 stars
Pros: Atmosphere is relaxing yet fun, the variety of selections is good and the wine list is extensive. The Wedding Cake Martini is definitely something to write home about, or at least make it to my blog. It didn't last long enough for a picture.
Cons: The food quality was good, but I'm not sure I liked the almost overuse of heavy cream in so many dishes. Portions were adequate to me, but some who are used to the indulgent sizes of most restaurants may find themselves wanting a bit more. The heavy sauces did fill me up so I wasn't able to finish my dinner.