I think this is the only hotel I have seen with labeled pillows. Accurately labeled too.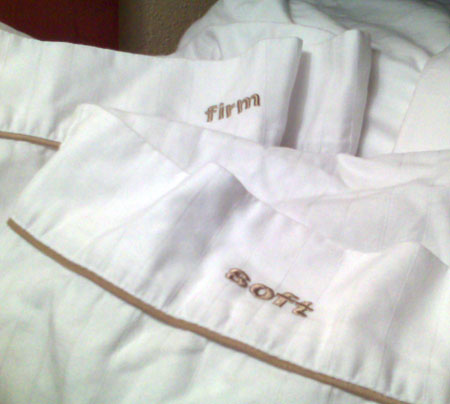 I have to give credit where it's due, and the
Holiday Inn Express at Greenwood, Mississippi
really deserves some credit. While it is the generic highway hotel for the most part, it seems to step a bit beyond that. It was the quietest hotel I've stayed at, ever. Usually I don't expect a 40-plus inch LCD TV in the room and solid surface counter tops in a Holiday Inn.
I've read recently that Holiday Inn is pushing to update and upgrade their hotels and overall image, going as far as to drop some of the older hotels from the chain that refuse to bring their hotels up to par. This was a new location that opened this summer and should be an example for the whole chain.