Rather than fight the weekend holiday traffic over Memorial Day, I decided to go to
Mount Magazine
with my husband and parents last weekend. We had planned a weekend last year but didn't get to go. Now, after over a year of waiting and wanting to go there, was it worth it? It was well worth the wait and the drive, but I'll let a few pictures demonstrate that as well.
The road leading to the park is Highway 309. It's not recommended that trucks with long trailers (like boats, large RV's, etc) attempt the climb as the road is somewhat crooked and steep. For a sports car driver or a motorcyclist, it's right up there among the best places to visit. There are a couple of overlook stops along the way, but they pale in comparison to what is available at the Lodge.
The Lodge at Mount Magazine is simply impressive. In terms of Value for the Dollar, I've mentioned before that Kentucky's State Park system was exceptional. However, this has a different good value for the cost. It's more what I'd expect from a higher quality resort than a State Park. The Lodge itself contains sixty guest rooms, most with balconies and a spectacular view. It also holds the indoor pool, several areas to walk or relax and enjoy the surroundings, a gift shop and a restaurant with one of the best views anywhere. Staying at the lodge even means room service! This, from a state park?
My abode for the weekend was a two bedroom, two bath cabin located not far from the lodge.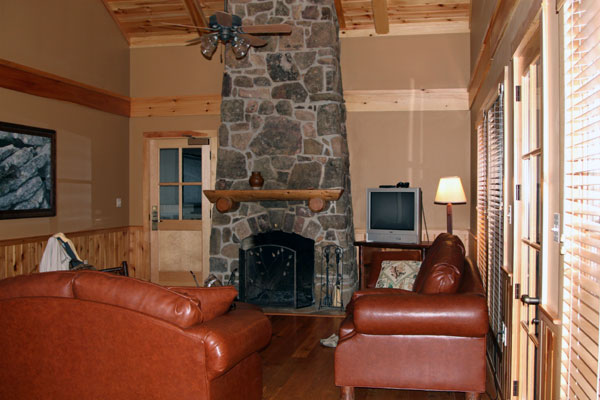 The living room was spacious with leather sofas and a large fireplace. A full kitchen with all the necessities including full-sized appliances would make this a great space for a more extended vacation. Each of the bedrooms had a king sized bed that would take quite the determined three year old lots of scheming to find a way to scale the side and sneak in at 4 am. It required me to have a little forethought about it anyway. The view from the cabin was equally spectacular to what I found at the Lodge, except here there's privacy. Windows are abundant in the right places, but the best view is from the deck across the side and back of the cabin. There's a surprise on the deck too, a 4-person hot tub that is ready to go.
More details coming soon...