Monday I was in Little Rock, Arkansas and had the opportunity to try a couple of new restaurants.
I had heard good reviews of
US Pizza Company
in the past and was not disappointed. The house salad dressing is very good; the waiter described it as a cross between Ranch and Creamy Italian. His description was accurate, and it had a bit of a pepper kick. The pizza reminds me of what I get at my local favorite,
Upper Crust Pizza Co.
The cinnamon sticks for desert were well worth saving some room. Their breadsticks are cut lengthwise and brushed butter and sprinkled with cinnamon and sugar; since that isn't enough, they top it all with warm vanilla icing. It's sugar overload, but in such a good way all is forgiven. The restaurant location we visited at the Heights was a converted building of some sort, but the conversion gave the place a bit of added character. It was clearly a popular spot with locals, as it was quite busy even past the noontime hour.
For dinner, we went to
Capers
on a recent recommendation from friends. I have since thanked them for such a good find! Everything from start to finish was excellent. We started with the BBQ Shrimp appetizer, which arrived with fresh shrimp served atop yellow pepper grits all with a Cajun cream sauce. I recommend the chicken vegetable soup, but t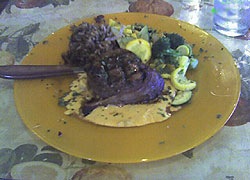 he soup selections do vary daily. For entrees, we both opted for the Filet Mignon, served on a pool of Crawfish Cream Sauce. The beef is a good quality aged Angus and the filets are hand cut. I've had steak graded prime that was of lesser quality than these. My complements to the chef too for cooking them exactly as ordered, somewhat of a rarity these days. The cranberry rice I ordered with it was good but sweeter than I would have paired with the steak; my husband's blue cheese mashed potatoes made for a better combination of savory tastes. Desert choices were plentiful, but the chocolate layer cake was one of the best I've ever had. Served warm, it is sweet without being overpowering making it easy to eat the whole slice!
Both of these are well worth visiting, and Capers would make an excellent choice for a quiet dinner for two or a great gathering spot for a group.