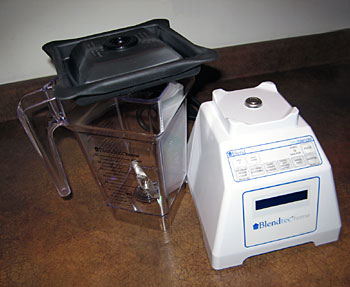 If you have a Blendtec Blender, it most likely will. Mine arrived today. So far I'm very impressed. For those who haven't heard of this gadget, check out the
Blendtec website
. Once you see the Total Blender and you get past the sticker shock,
check out their videos
to see why they are appropriately proud of their product. Tom Dickson lets his personality add to the demonstrations, making them even more entertaining. As tempting as it is, I've avoided the Matchbox cars and Rake tests so far. (That's not to say something not intended to be blended will avoid all confrontations. If you know my husband, you know I will have to guard it closely.)
Shipped with the blender is an exceptionally good cookbook. Usually the cookbooks that arrive with any small kitchen appliance are a few pages that are a mere tiny step above some photocopied pages stapled together. The one included with the Kitchen Aid stand mixers is decent, but this is better than some cookbooks I've picked up at bookstores. Full color, almost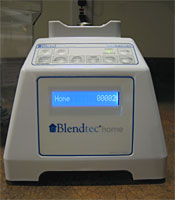 250 pages, all recipes that heavily rely on the blender. Perhaps the most impressive aspect of the book is that every recipe includes very thorough nutritional data. For example, their Carrot Cake recipe has 14.36 ug of Selenium per 1 slice serving. Yes, that over-the-top kind of complete data you can only get from a very unique company.
It has a one-line display on the front and a series of pre-programmed buttons designed for everything from smoothies to soups. It also has buttons to speed up, slow down and pulse.
And yes, four cups of ice will make snow in 30 seconds.